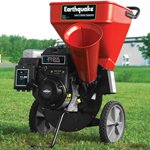 I am so excited I could spit...
Some of you may remember back in September I posted a wish list
*Click Here to view the list*
and right at the top of the list was a wood chipper...well I am so excited to say, we finally have saved /budgeted enough money to make the dream come true....
This week I am getting a
Earthquake 9070300 Chipper/ Shredder
Briggs & Stratton Powered! Self-Feeding Action- Dual knives are placed at angles to create a self-feeding mechanism. As the knives rotate and cut, they pull the material into the cutting zone for easy feeding. Plus the hopper stands 34 in. high, offering a comfortable working height while still maintaining a low center of gravity for increased stability.
I can't wait to get this little baby home and start getting rid of all the piles of branches we have all over the property and making them into mulch for my garden...Not to mention all those lovely dead leaves into compost....
It comes with great reviews and is $400 less than the other one I was looking at, at Home Depot....Hubby can either pick it up today from the local
Tractor Supply Company
, after work or on his next day off which is Wednesday...I am crossing my fingers for today hehe...We have to pick-up some fencing supplies this week anyway :)
Our garden is going to be soooooooo Pr-ur-ty
Blessings Kelsie